By Ted Nesi Published: July 23, 2014, 5:56 pm Updated: July 23, 2014, 6:13 pm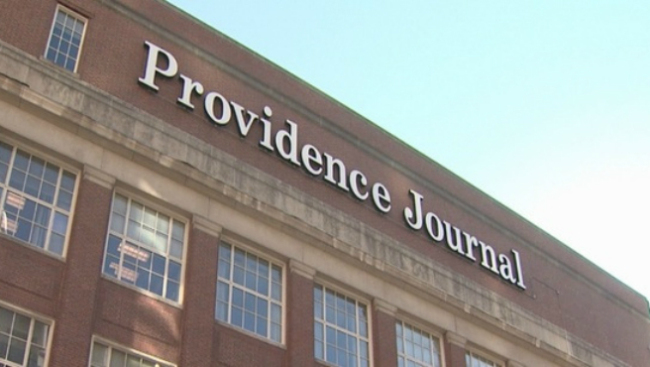 PROVIDENCE, R.I. (WPRI) – The Providence Journal's new owner is likely to cut jobs while boosting revenue through a service that helps local small businesses with online marketing, analysts said Wednesday.
GateHouse Media parent New Media Investment Group Inc. will pay $46 million to "acquire substantially all of the assets which comprise the newspaper operations of The Providence Journal" from A.H. Belo Corp., the Dallas-based company that has owned the paper since 1997, the companies announced Tuesday.
GateHouse CEO Kirk Davis gathered Journal staff members – who learned about the sale via email when it was made public late Tuesday afternoon – in the auditorium of the paper's Fountain Street headquarters Wednesday morning to tell them about the deal. Davis was flanked by Howard Sutton, the paper's longtime publisher. They did not take questions.
"We enter your market committed to supporting a journalistically proud, sustainable, agile, and innovative organization, and we are committed to upholding the high standards and unquestioned integrity that you have come to expect from The Providence Journal," Davis wrote in a letter to readers published in Wednesday's paper.
John Hill, a Journal reporter who is president of the Providence Newspaper Guild union, said he was heartened by the "very nice things" Davis said both at the employee meeting and in the public letter. Hill said it's too early to make any judgments about how GateHouse will rate as a steward of the paper.
"We need to see the details of how this thing is implemented from the point of view for the people who represent the workers," Hill told WPRI.com. He added: "They're saying good things, but we need to see. The words are good – don't get me wrong – but we need to see what they do."
The union's current contract with the newspaper expires Dec. 31. Sutton and Karen Bordeleau, The Journal's executive editor, have not responded to a request for comment. New Media did not respond to an email Wednesday.
GateHouse was created in the mid-2000s when Fortress Investment Group LLC, a New York firm, merged three community newspaper groups in Massachusetts and Illinois. The company then went on a debt-fueled buying spree, only to run into trouble when the broader economy and the newspaper industry in particular cratered after 2008. GateHouse exited bankruptcy late last year and is now growing again with a clean balance sheet.
Kevin Kamen, a media appraiser at Kamen & Co. Group Services in Uniondale, N.Y., correctly predicted as far back as 2010 that a buyer would be willing to pay $42 million to $51 million for The Journal. He said Wednesday the purchase is "a great deal" for GateHouse, which already owns a large number of publications in Southeastern Massachusetts, including the Fall River Herald News.
"They paid about $4 million to $5 million more than they should have," Kamen told WPRI.com. "Remember one thing: it's what a publisher can do with the publishing entity; it's not what the seller's done with it. It's what the buyer feels they could do. They have multiple ways to enhance revenue streams by coupling their operation with others from within their market that they own already."
"They're good people, and Kirk's from the New England area," he said. "I think it's a wonderful fit and I wish them well. They'll definitely streamline and do anything else they have to do to make it more cost-effective. They have the infrastructure to do so. I expect that they will start to make some more changes to make it more efficient within the last quarter of this year."
Kamen suggested GateHouse was motivated to pay a premium in part to ensure a competing newspaper chain didn't get The Journal instead. "This decision wasn't only made to drive revenue streams, but it was also to keep out one of the other big boys from coming into the market," he said, adding: "It's just a logical acquisition and I know it's in very good hands with Kirk."
Rick Edmonds, media business analyst at the nonprofit Poynter Institute in Florida, reacted similarly.
"It is a generous price compared to some we have seen," Edmonds told WPRI.com. "But a middle-market paper like Providence is probably easier to run profitably than a big metro like the [Boston] Globe. Also the local group may have bid up the price." He noted the Alaska Daily News recently sold for $34 million.
Jon Chesto, managing editor of the Boston Business Journal and an expert on GateHouse Media, saw two major motivations for the company: to get control of the paper's Kinsley Avenue printing plant, which it can use for its other publications and as a revenue driver; and to open up a new market for its growing Propel Marketing division, which helps small businesses enhance their presence online.
"So they're paying a little bit more than I expected, but I do see the reasoning," Chesto told WPRI.com. "It's a strategic asset for them in a lot of ways. … [I]t fits into their geographic footprint like a glove." He pointed out that GateHouse is working to consolidate its copy-editing operations at a central hub in Austin, Texas.
The Journal has remained profitable in recent years despite huge declines in advertising and a large decrease in circulation. The paper earned an operating profit of $6.4 million in 2013 on $90 million in revenue, according to a presentation for potential Journal buyers compiled by Stephens Inc., the investment bank that handled the deal.
There was widespread agreement among analysts Wednesday that GateHouse will probably cut jobs at The Journal once the deal closes, which is expected to happen by Sept. 30. But they said employees who work in back-office operations are at more risk than reporters.
"I expect some layoffs. I don't expect a lot," Kamen said. "I think that they will see how things sort themselves out and see where they could use staff in multiple ways. … They're smart publishers."
"Given that it's a statewide paper with statewide reach and has already been significantly cut, I would expect to see cuts in other parts of the operation," Ken Doctor, a media analyst at the research firm Outsell and the author of "Newsonomics," told WPRI.com. He suggested there will be "a timely review of all of their operations especially focused on the question of where can GateHouse central services save us efficiency here."
"I would say that there will be job cuts," Chesto said. "First you're probably going to see some of the back-office and administrative cuts."
Edmonds said that "running lean is part of the GateHouse way – so I would not be surprised by further cuts beyond those already made."
Linda Levin, professor emerita of journalism at the University of Rhode Island, noted that The Journal has already cut its staff by nearly half since 2008. "The sad thing with The Journal is there have been so many layoffs under Belo that it does make you pause and ask, are there any people left to lay off there?" she said.
Dan Kennedy, an associate professor at the Northeastern University School of Journalism and a longtime media watcher, expressed disappointment that the Rhode Island business community wasn't able to cobble together enough money to put The Journal back under local ownership, as it was until 1997.
"There is no substitute for a newspaper that is fully invested in the community," Kennedy wrote in a commentary on WGBH's website. "I have no doubt that cuts will follow, just as they did when New Media/GateHouse last year purchased Rupert Murdoch's Dow Jones community papers, including the Cape Cod Times and the Standard-Times of New Bedford." But he also said GateHouse "deserves a chance to prove it will be good steward of the Journal."
Levin countered there are many examples throughout history of local owners doing a poor job running a newspaper, and she said the pre-1940s Journal was one such example. "I don't think local ownership is necessarily better than outside ownership," she said. "It depends who the outsiders are."
The Journal deal could present a business challenge for The Boston Globe, which currently has contracts to print some of the GateHouse papers, if the new owner shifts more of that work to the Rhode Island presses, Kennedy said.
Ted Nesi ( tnesi@wpri.com ) covers politics and the economy for WPRI.com and writes the Nesi's Notes blog. Follow him on Twitter: @tednesi